Pneumatic Pressure Control Valve
Pneumatic pressure control valve is capable of regulating the system pressure to adjust the force on the hydraulic piston rod or the torque on the hydraulic motor shaft. Pressure relief valves are used to set the maximum pressure in the circuit and prevent it from being overloaded. Pneumatic pressure control valve permanently maintain the output pressure at the set value while preventing overloading of the equipment. Unloading valves are designed for economic pressure control in accumulator operating circuits and are used as a power source for emergency control.
Classification of pneumatic pressure control valve
In the pneumatic transmission system, all pressure control valves work on the principle of balance between air pressure and spring force, which can be divided into the following three categories:
1. Pressure reducing valve. Also known as pressure regulating valve, setting device (precision pressure reducing valve), etc., it plays the role of pressure reducing and stabilizing;
2. Overflow valve. Also known as safety valve, pressure-limiting shut-off valve, etc., it plays the role of pressure-limiting safety protection;
3. Sequence valve and balance valve. Depending on the pressure of the gas circuit, some control is performed.
Next, we mainly introduce you this single-seat cut-off pressure control valve.

Single Seat Globe Pressure Control Valve advantages:
Hydraulic pressure control valve has Long life
1. Single Seat Globe Control Valve Valve Trims
According to the needs of the working conditions, different materials and surface hardening treatment can easily be chosen to meet the requirements of each function module of trim to improve its performance of the corrosion, cavitation and erosion resistant, lengthen service life.
2. Pressure Control Valve body
The body of LN8 Single Seat Globe Valves consists of two passages from upper and lower, forming a shape like letter "S". The design of an elliptical section reduces the flow resistance and turbulent flow to keep the flow fluent. The flap in the middle of upper passage can reduce the eddy flow and increase the flow capacity.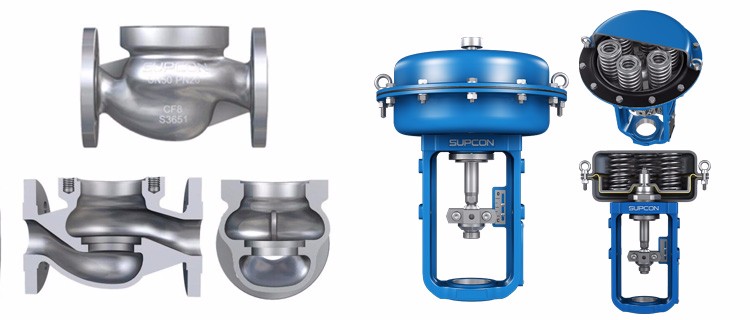 3. Single Seat Globe Valve Actuator
The standard mate of Single Seat Globe Valves is AM8 Multi-spring pneumatic diaphragm actuator, which can be used in many conditions with the features of strong output force, high reliability, long lifespan and extensive applications. The output force changes with the number of springs. The high stress resistant diaphragm, bearing maximum pressure of 0.5 MPa air supply, gives globe valves a reliable shutoff. This type of actuator has a long life cycle with more than 1 million times.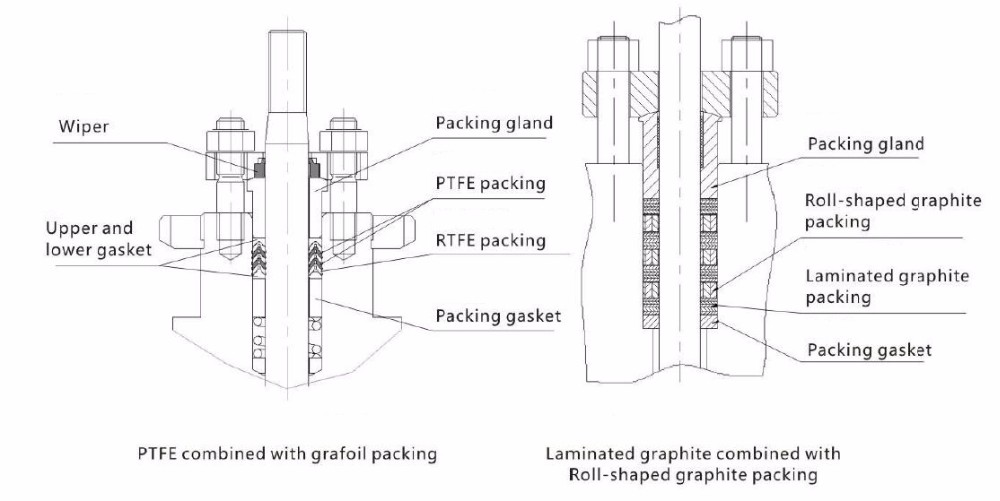 We have been the leader in the valve industries, we have our own design and production system.
High Precision Globe Control Valve
LN8 high performance Pressure Control Valve are designed strictly on the basis of the IEC standard. They are the latest self-innovated modularized straight stroke control valves of SUPCON. We divide the trims into three modules, namely guide, control and seal module. We provide the best solution according to the function of each module and make action, control and seal more reliable.
Each index, linear, hysteresis, dead zone and leakage, for example, is full compliance with national standards.
Note: For below measured results, take LN8100 top guide single seat valves (PN110) as an example.
You can find products through the search box.
| | | | |
| --- | --- | --- | --- |
| Test Items | National Standard | SUPCON Standard | Measured Results |
| Seat Leakage | 0.06 L/min | 0.064 L/min | 0.01L/min |
| Rated Travel Error | +2.5% | +2% | 1.32% |
| Start Error | ±2.5% | ±2% | 0% |
| End Error | ±2.5% | ±2% | 0.08% |
| BasicError | ±1.5% | ±1% | -0.52% |
| Hysteresis | 1.5% | 1% | 0.16% |
| Dead Band | 0.6% | 0.4% | 0.38% |
Single Seat Globe Pressure Control Valve is easy to maintain
The unique platform and modul design make it jammy to remove and displace the parts without special tools, and moreover, jammy to change the type of the valves only by changing few parts. A variety of material combinations is optional for the parts.
Please contact us for more product information! We will give you high quality products and low prices. If you are finding Globe Control Valve Supplier, you can choose us.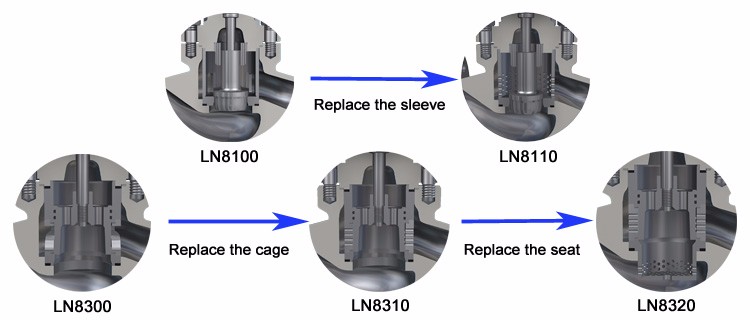 A single seat valves is a form of globe control valves that is very common and has a very simple design. These globe control have few internal parts. They are also smaller than double seats valves and have good shut-off capabilities.
Easy access to the top of the valves assembly simplifies maintenance. Due to their widespread use, they can be used in a variety of trim configurations, thus providing a wider range of flow characteristics. They also produce less vibration due to reduced plug mass.
Applications Of Globe Control Valve
Globe valves are used in systems where flow control is required and tightness is also important.
When the leak tightness and safety are mainly considered, it can be used for high-level exhaust holes and low-level drainage holes. Otherwise, a gate valves can be used for drainage and venting.
It can be used in water, chemicals, air, lubricants and almost all services that do not require pressure drop
The globe valves is also used as an automatic control valves, but in this case, the valve stem is a smooth stem, not a thread, and is opened and closed by the lifting action of the actuator assembly.
At the same time, the globe valve is also a linear motion valve, which is widely used for stopping, starting and throttling.The existence of a shut-off valve makes system operation easier.
Some of the most typical applications for globe valves include cooling water systems, fuel oil systems, feedwater or chemical feed systems, boilers and major steam discharge and discharge ports, and turbine lubricant systems. Select different types of valves according to the temperature range required by the work.
Our company has a field experienced and strong technical team, and also committed to the development of stringent complex working condition control valve such as ball Valves and Globe Valves, to solve high pressure, corrosion, flash, erosion, large differential pressure and a series of technical problems. More knowledge can be downloaded in flow and directional control valve pdf.
Our company is committed to providing users with international competitiveness of high quality products and comprehensive technical services in oil and refinery, petrochemical, coal chemical, fine chemical, metallurgy and so on. We can help you provide solutions based on your actual situation!
Our company has been a leader in the valve industry, we guarantee delivery time and products quality! For more products menus and information, welcome customers to consult us.
For more related knowledge, click on the article below.
What Is Valve Cavitation? How to Eliminate?
A Brief Introduction to the Control Valve (Part 1)
A Brief Introduction to the Control Valve (Part 2)