Nov. 08, 2022
The structure length and overall height of the butterfly valve are small. Fast opening and closing speed. And it has good fluid control characteristics. The structure principle of the butterfly valve is most suitable for making large diameter valves. When the butterfly valve is required for flow control use, the most important thing is to select the correct size and type of butterfly valve so that it can work properly and effectively.
Usually, in throttling, regulating control and slurry media, short structure length and fast opening and closing speed (1/4 turn) are required. Low-pressure shut-off (small differential pressure), the butterfly valve is recommended.
In double-position regulation, indented ground channel, low noise, cavitation and cavitation phenomenon, a small amount of leakage to the atmosphere, with abrasive media, butterfly valves can be selected.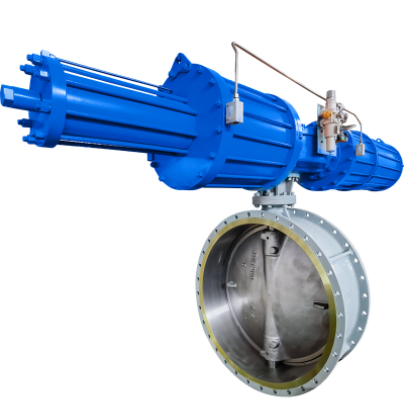 Butterfly Valve
Butterfly valve selection principles
1. Because the structure of the butterfly valve length is relatively short and can be made into a large mouth by, so in the structure of the short length requirements or largemouth by the valve (such as DN1000 or more), it is appropriate to choose the butterfly valve.
2. Since the pressure loss of the butterfly valve is relatively large compared with the gate valve and ball valve, it is suitable for a pipeline system with less strict pressure loss requirement.
3. Because the butterfly valve can be used as flow regulation, it is suitable for use in pipelines that require flow regulation.
Since the butterfly valve can be opened or closed by rotating only 90°, it is suitable to use a butterfly valve on the occasion of fast opening and closing requirements.
5. Due to the limitation of the structure and sealing material of the butterfly valve, it is not suitable for high-temperature and high-pressure pipeline systems. The general working temperature is below 300℃ and the nominal pressure is below PN40.
Applicable conditions of different types of butterfly valves
When using butterfly valves under special working conditions such as throttling and regulation, or requiring strict sealing, or severe wear and tear, or low temperature (deep cold), it is necessary to use specially designed metal sealed triple or double eccentric special butterfly valves with regulating devices.

The midline butterfly valve is suitable for fresh water, sewage, seawater, saltwater, steam, natural gas, food, medicine, oil and various acids and alkalis and other pipelines that require complete sealing, zero leakage in gas test, high life expectancy and working temperature from -10℃ to 150℃.

Soft seal eccentric butterfly valve is suitable for bi-directional opening and closing and regulation of ventilation and dust removal pipeline, widely used in metallurgy, light industry, electric power, a petrochemical system of gas pipeline and waterway, etc.

The metal-to-metal wire-sealed double eccentric butterfly valve is suitable for city heating, gas supply, water supply and other pipelines of gas, oil, acid and alkali, as regulating and throttling devices.
Butterfly Valve
Guidelines for the Installation of Butterfly Valves
The installation position of butterfly valves is usually between flanges. Butterfly valves should be installed at least four to six pipe diameters away from discharge nozzles, elbows or branches to minimize the impacts of turbulent flow.
Before installation, clean the pipeline and check the smoothness/flatness of the flanges. Ensure that the pipes align. When installing the valve, keep the disc in a partially open position. It may be necessary to spread the flanges to avoid damages to the seat faces. Use locating holes or a sling around the body when lifting or moving the valve. Avoid lifting the valve at the actuator or its operator.
Align the valve with the adjacent pipe's insert bolts. Tighten the bolts by hand and then by a torque wrench and slowly tighten the bolts evenly to estimate clearances between them and the flanges. Turn the valve to a fully open position and check the bolts by tightening them using a torque wrench for uniform tensioning.
Maintenance of Industrial Butterfly Valves
Maintenance of valves involves the lubrication of mechanical components, inspection and repair of actuators. Valves with requirements for regular lubrication contain fittings from where grease is applied. Sufficient lithium-based grease should be applied at recommended intervals to minimize rusting and corrosion.
Inspection of the actuators at regular intervals to identify any signs of wear or loose electrical, pneumatic or hydraulic connections that may affect valve operation is also important.
In addition, users should clean all parts of the butterfly valve using a silicon-based lubricant. The valve seats should be inspected for any signs of wear and replaced whenever necessary. The discs of butterfly valves used for dry applications like compressed air service need to be lubricated. Butterfly valves that are not frequently cycled should be operated at least once monthly.
We are a butterfly valve supplier, please feel free to contact us if you need them.