Dec. 06, 2021
Good news! Recently, SUPCON control valves - LN regulating valve series, BN butterfly valve series,
Z gate valve series passed the TUV API6FA fire protection certification!
About API6FA fireproof certification
Operation test procedure: operate the valve under the standard high-pressure test pressure. The valve reaches a half-open or full-open
position from fully closed. Drain the steam from the pipeline to fill the pipeline with water. Then close the downstream pipeline and
measure the external leakage of the valve under the standard high-pressure test pressure. After the valve is forced to cool at the end
of the fire, the valve leakage and external leakage are measured under the standard low-pressure test pressure. External leakage during
the fire is the leakage through the flange connection of the valve body, threaded connection, and stem seal during the fire under the
specified test pressure. The internal leakage during the fire is the leakage through the valve seat during the fire under the specified test pressure.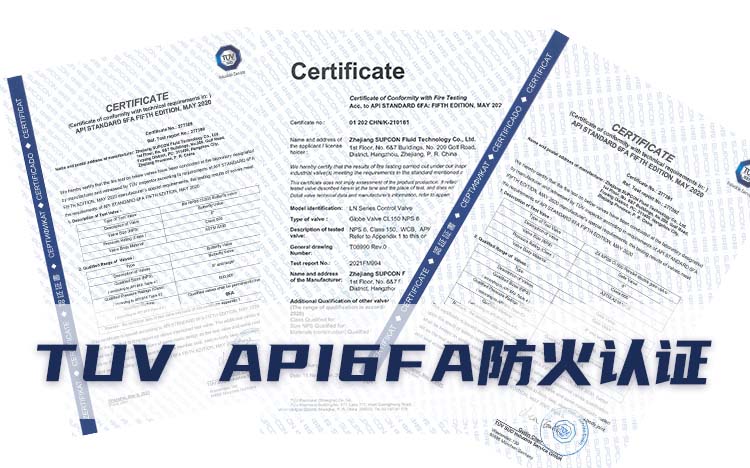 In recent years, people's safety requirements for control valve products have gradually increased. Especially in the petroleum, petrochemical,
coal chemical, and other industries, the safety performance of the valve plays a vital role. Safeguarding the safety of production and operation
is of paramount importance.
SUPCON control valves are certified by TUV API6FA under the certification of third-party authorities and obtained the certificate.
This represents a further improvement in the quality of SUPCON control valves. SUPCON will bring better quality products and
better service to our customers in the future!